JaffEats The Flaming Fiesta Burger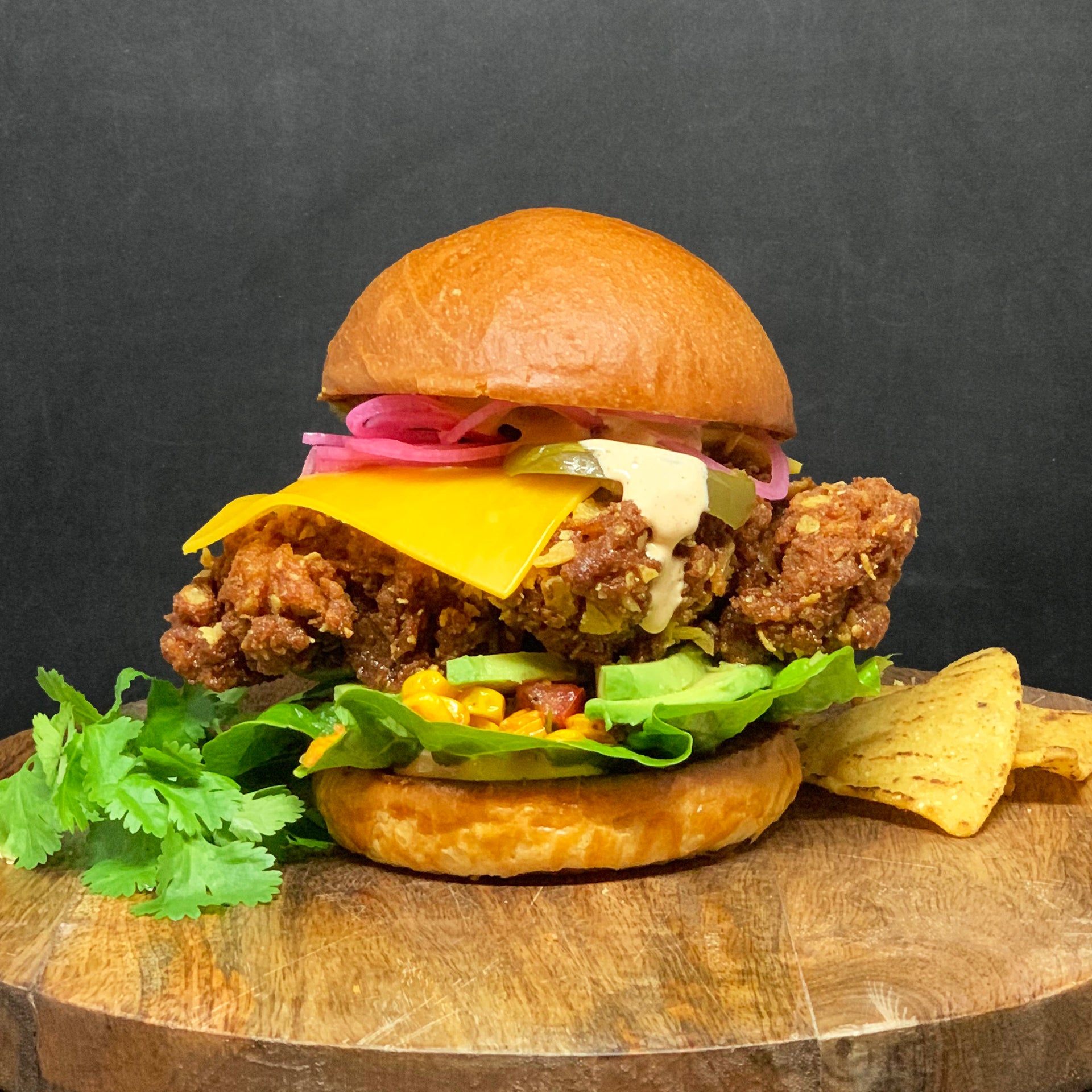 Recipe by Jared Bozas
Instagram: jaff_eats
Serves: 4
Ingredients
4 good quality burger buns (buttered)
4 free range boneless chicken thighs
Culley's Chipotle hot sauce
Culley's Mexican Fajita seasoning
Culley's Smoky Mayo
Culley's Mexican corn chips
4 slices Cheddar cheese
1-2 avocados
Cos lettuce (washed and dried)
Jalapeños
Canola oil
Marinade Ingredients
600g buttermilk (if you can't find buttermilk mix 2 cups milk or cream with 2 tbsp vinegar or lemon juice and wait 5-10 minutes)
½ packet Culley's Mexican Fajita seasoning
A few splashes of Culley's Chipotle sauce
2 eggs beaten (only add at the end before dredging)
Dredge Ingredients
1 cup self-raising flour
½ packet Culley's Mexican Fajita seasoning
½ bag Culley's Mexican corn chips (crushed into small bits)
1 ½ tsp MSG (optional)
Pickled Onions Ingredients
1-2 red onions
1 cup boiling water
½ cup apple cider vinegar
1 ½ teaspoon salt
1 Tbsp sugar
Smoky Special Sauce Ingredients
2 tbsp sour cream
3 tbsp Culley's smoky mayo
1 ½ Tbsp Chipotle sauce
Corn Salsa Ingredients
1 cup frozen corn (substitute with fresh corn in Summer)
1 tsp smoked paprika
1 large tomato (flesh scooped out and finely diced)
1 lime (juiced)
1 red chilli (chopped finely)
1 bunch coriander (chopped finely)
Method
1. To make pickled onions, peel the red onions then slice very thinly using a mandoline (you can use a knife but cut as thinly as possible). Pack onions into a sterilised jar.  Then heat all remaining ingredients in a small pot until everything dissolves and pour over onions.  Then refrigerate until needed.
2. Lay each chicken thigh between two pieces of greaseproof paper then bash them with a rolling pin to thin them out.
3. To make the marinade, add buttermilk to a bowl, add half a packet of the Culley's Fajita seasoning.  Add a few good splashes of Culley's Chipotle hot sauce.  Then whisk together.  Add chicken thighs and cover and refrigerate for at least 2 hours (preferably overnight).
4. To make special sauce, add all ingredients to a small bowl and whisk until smooth. Then refrigerate until needed.
5. To make the corn salsa, add a splash of olive oil to a medium size frying pan.  Turn up to high heat, add corn.  Then press down with a spatula so corn has good contact with the pan.  Then let it char for about 5 minutes, turning every few minutes. When corn has nice colour, season with salt, pepper and smoked paprika.  Then turn off the heat. Once the corn has cooled down, mix together with all remaining ingredients.  Then refrigerate until needed.
6. To make the dredge, mix the self-raising flour, ½ packet Culley's Fajita seasoning, MSG and crushed corn chips.  Then mix thoroughly.
7. Add beaten eggs into the marinade and mix together.  Then remove chicken thighs from the marinade, shaking any excess liquid off and dredge in the seasoned flour (make sure you press flour into all areas of the chicken so it gets a good even coating). Move to a wire rack and repeat process with remaining chicken thighs.
8. Fill a large pan 2/3 with oil and heat to 175°C or until a piece of bread browns in 40 seconds.
9. Cook the chicken for 7-8 minutes, turning half way, until deep golden brown.
To assemble
1. Toast buns on a hot pan/griddle.  Then spread generously with special sauce.
2. Add a Cos lettuce cup, then fill with corn salsa and layer sliced avocado, fried chicken, a slice of cheddar cheese, pickled onions and jalapeños.  Then top with more special sauce.
3. Prepare your jaw for the inevitable.  Then have yourself a good, old-fashioned fiesta.