Deviled Chicken Wings By Carina Stewart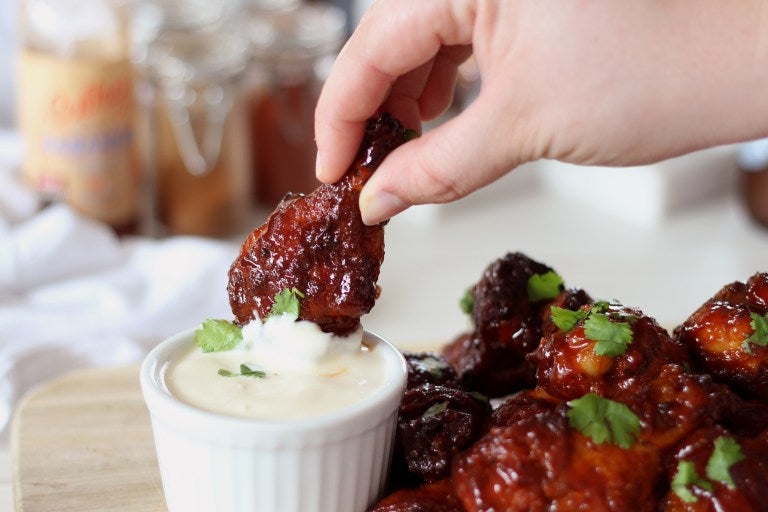 Carina Stewart
www.recipesbycarina.com
Facebook: https://www.facebook.com/recipesbycarina/
Instagram: https://www.instagram.com/recipesbycarina/
Youtube: https://www.youtube.com/carstinaxx
Ingredients
10 Chicken Wings
2 tsp Brown Sugar
2 tsp Baking Powder
½ tsp Chili Powder
1 tsp Paprika
1 tsp Cumin
1 tsp Garlic Powder
½ tsp Salt
½ tsp Pepper
⅓ Cup Culley's Habanero Hot Sauce
2 Tbsp Honey
2 Tbsp Butter
Instructions
Pat the chicken wings dry with a paper towel and place into a large bowl.
Measure out the brown sugar, baking powder, chili powder, paprika, cumin, garlic powder, salt and pepper into a small bowl and mix until well combined.
Pour the dry rub over the chicken wings and toss until well coated.
Place the chicken wings on a baking sheet topped with a rack in a single layer and bake in a 200C | 400F oven for 40-50 mins or until cooked through and well browned.
When the wings are just about ready make the sauce by pouring the hot sauce, honey, and butter into a small saucepan. Heat over medium heat, stirring occasionally until melted.
Turn the heat to low and simmer for about 5 minutes until thickened.
Remove the chicken wings from the oven and transfer to a bowl. Pour over the sticky sauce and toss until the wings are generously coated.
Serve immediately with a dipping sauce like ranch to cool down the spice.
Notes
If you would like to make more just double or triple this recipe.
If you don't want too much spice omit the chili powder and just use a smaller amount.
Use your favourite hot sauce or use a more milder sauce for less heat.